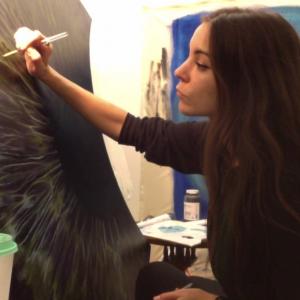 Morgan Abenhaim
Artist member since 2020
Toronto , Ontario
Morgan Abenhaim is a multimedia fine artist based in Toronto, Ontario. In 2013, Morgan graduated with a BFA from OCAD University, where she majored in drawing and painting. Throughout her time there, Morgan's focus was primarily on explorations within portraiture.
About Morgan's Current Body of Work:
The human iris contains more than 200 identification points that are encoded within the grooves and ridges of the pattern in each of our eyes. Each eye is completely unique from one another. Drawing on this as inspiration in her current body of work, Morgan explores her her subject further through narrowing in on the human iris as a means to deconstruct conventional portraiture.
By eliminating the physiological markers of identity(race, gender, facial expression...), Morgan explores moments of intimacy, and elements of connection by diving into the essence of her subjects. Localizing her focus of the iris as a form of 'raw' connection simplified, severs the selected subjects from the confines of their physical containers and the societal stigmas that come with it. Dissolving the historical confines of the viewer/subject dynamic and extracting the traditional symbolic context from portraiture; to shift and redefine it.
In doing so, this element of the work is being utilized as a means to explore various components of the human experience. After the subject has been reduced to a simplified form- are we still capable of connecting?
Select Past Exhibitions
2020
2020
2019
2019
2018
2017
2017
What do you mean, "try"?
Try-before-you-buy with a 3 month rental. 100% of your rental payments go towards the purchase (interest free). Message the artist directly, and start the conversation.
---
Art made (truly) affordable
We make it easy for you to try art with smart payment plans and try-before-you-buy models.
See How It Works
---
You're covered.
Artwork protection is included on all art rentals up to $5K. Our Customer Care team is always here to help.
Contact Us
---
Unlock Trade Access
For industries including interior design, film/TV production, & real estate staging: rent original pieces that fit with your project vision, budget and timeline.
Apply for Trade Access
---
1% from every transaction goes towards SKETCH WORKING ARTS.